PAUL COMPONENTS Racer
Sale price

RM 0.00

Regular price

RM 0.00
Share
RACER
It's got fantastic stopping power and thanks to the very stiff and short arms it modulates that power better than any brake we've ever used.
TECHNICAL INFORMATION
Material

6061 Aluminum

Center Mount Weight

154g

Braze-On Weight

113g

Finish

Anodized or Polished

Anodized Color

Black, Purple or Silver

Cable Pul

Short Pull ↓

Brake Pads

Salmon Kool Stop Thinline

Reach

47mm-57mm ↓

Additional Information

Exploded Assembly Drawing

Spring Placement
PRODUCT STORY
The Racer is offered in both a center mount and a braze-on configuration. The Braze-On Racer mounts to a pair of center pull brake bosses positioned on the fork or seat stays at a specific width and distance from the axle. While it can be more difficult to have a frame fitted with these specially positioned brake bosses, it makes for a much stiffer and cleaner looking brake.
It is important to note that the Braze-On Racer does not mount to brake bosses in the standard cantilever position, and it will not work with U-brake bosses. Please refer to our support article on Braze-On Center Pull Brakes for more information. Reach is determined by the height of the center pull brake bosses, which can be positioned by a frame builder to match up with 700c, 650b, or 26″ wheels.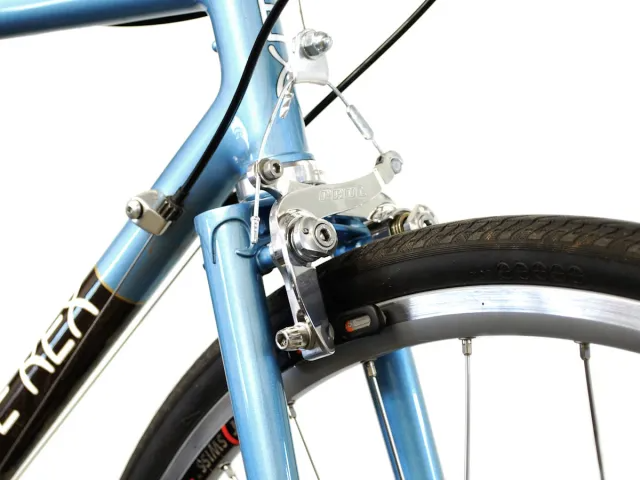 The Center Mount version of the Racer features an additional bridge piece that runs between the pivots and allows the Racer to mount to frames with a single brake mounting hole above the tire. The option is given for a shorter recessed bolt to work with modern frames, or a longer non-recessed bolt that works with older frames. In this setup the Racer Medium is a medium (or "standard") reach brake with a range of 47 to 57mm.
The Racer come with all necessary hardware: mounting bolts, straddle wire, cable carrier, and a pair of salmon Kool Stop Thinline brake pads.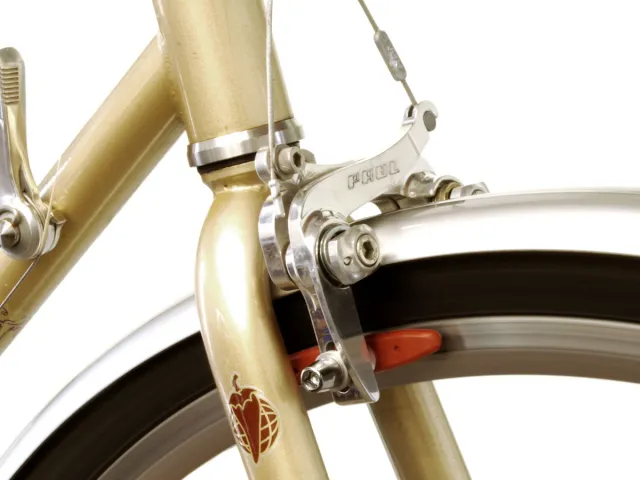 Between the arms there is enough clearance to fit a 45mm fender and a 32mm wide tire. We think this is a perfect combination for an all-around do-everything road bike if there ever was one. As a bonus, the brake will not pinch the side of the fender like dual pivot brakes do.
Please note that all of our brakes are sold per wheel.